So after our plane touches down and we ditch the stinkpod next to us, we are quite relieved to see Sarah and Lee waiting to greet us at the airport. After breathing in as much fresh air as we can, we are off to see the livestock souk. And WOW....what a place. If you are in the market for sheep, camels or goats, this is the place to get some action. And action they are excited to have, because let me tell you - the livestock souk can be a pretty dull place to be. Picture little Arab men sitting around with no one for comapany except their crazy livestock and text messaging, wouldn't you be excited to talk to someone? So after snapping a few pictures (picture Sarah sitting in the front seat yelling "Don't talk to them!!") we managed to escape with only 2 sheep and 3 camels - who knew that Jules would be worth so much?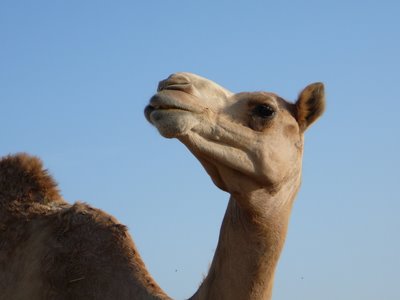 After the souk it was off to Lee and Sarah's pad to make some dinner - quite nice considering it has been the first home cooked meal we've had since....probably Thanksgiving at our parents' place. It was at supper that Lee (who has been quite a fountain of information on life and times in the Middle East) decided to inform us that Lonely Planet has dubbed Doha as the "most boring place on the planet". Soooo....it is now up to us to see if Dullha really is indeed as boring as they say it is. But hey - if we can entertain ourselves quite nicely for an afternoon in Black Diamond and Turner Valley, then we can definitely handle 6 days over here. Really the question to be asking is - can Doha handle us? However no need to break the bank all at once, so we decided to cap the evening off with a movie - The New World. And let me tell you...it is the slowest movie on earth. If you haven't seen it, don't waste your time. If you have...I'm sorry.
The next morning, Sarah and lee were off to work, so Jules and I decided to hit up the pool, do a bit of laundry and just enjoy the sun while waiting for them to finish work. We went out to the Doha Golf Course for dinner with James and Miriam, 2 of Sarah and Lee's friends from England. They were quite a delightful little couple and definitely provided us with some good laughs. Alas...it was day one in Doha - boredom factor... not too bad so far.