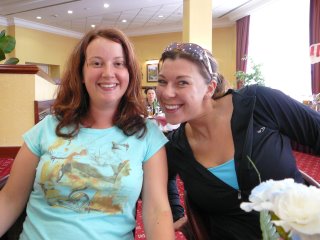 Today we are off to Al Khor for Friday brunch - the equivalent to Sunday buffet back in Calgary. And a fantastic little feast we found there! Hummous, salads, curried vegetables roast beef and all sorts of little Arabian delicacies. Jules would like to do a little plug for the best waffles with fruit and chocolate syrup that one could ever possibly ask for. A possible rival for the brunch at Banff Springs? Well...maybe not quite, but it does come in a close second. After gorging ourselves to the point of obscenity, we then headed off for the pool for a little more sun and some lemon mint. OK...let me tell you about the lemon mint here. In 3 words...FAN-TAS-TIC!! It's a lemon drink, kind of like lemonade that has been mixed with freshly ground mint. It is quite tasty and any chance to get it, it is ours.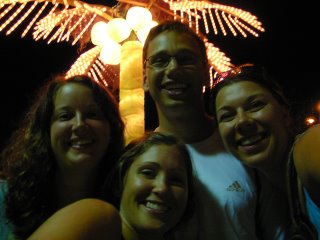 So after spending another aternoon as bathing beauties, it was back to Doha for a late dinner (like we needed any more food...) and a fun filled evening of Globe Trotter Trivial Pursuit - (too bad you missed out Nicole! I did us proud!!) and topped off with non other than Sarah and Lee's own little karaoke machine. Ohhh the performances done by Lee! Who would have thought he would be the next Justin Timeberlake! Lee is definitely no one hit wonder!!!
So Saturday was our big adventure out to the desert. You could tell that adventure was up in the air from the moment that we left the city....We were off to a little abandoned village, nothing here but run down little buildings and a garbage man...go figure. At least it was clean....
So it was now time for a little off roading action. In order to get to our next destination which had been built for a Bollywood movie we had to take a "road" which was more like driving through a pasture than anything else. And you thought the highways in Saskatchewan were horrible...those are smooth sailing compared to these (it even makes the 363 look good Dad..)After bouncing around from side to side and nearly hitting ourheads a couple of times we pulled into our next stop like Bo and Luke Duke outrunning Boss Hog (Sarah even has the Daisy Dukes to prove it). We were still in one piece, so we hauled ourselves out of the Mirtsubishi (although Lee insisted on climbing out through the windows)and had a little look around.
Our first stop at the set was the place where the "bad guys" hung out - all these little stone huts that were scattered across the countryside, which was really more of a huge clay bowl than anything else, but pretty cool nonetheless. There was a rope for you to scale the wall and overlook the cliff, so Lee and I braved it up there. We tried to get up to the main hut, but the rope was broken and Lee was too chicken to scale the wall and get it for us, so we had to be happy woith what we got and headed off to the second part of our movie set.
Now this part was the part where the "good guys" hung out and wow, what a difference in accomodations! It definitely pays to be a good guy out in the desert. They even had their own "sitting room". And lucky for us, weeven had our own persinal tour guide once we got there. How these guys end up in the middle of nowhere I'll never know. It was a pretty cool place as well - little buuildings that were all built within the walls of a fort - it even came with it's own mosque, which every good guy out in the desert needs. There were even a couple of little holes in the wall for our hosts to stash their toothbrushes and toothpaste.
By this point, we are sweating like pigs out in the desert heat, but I guess some really like it hot, because one of the guys was sporting long pants and a toque. It is nearing winter here after all...and with a dramatic drop in temperature from +50 to only +35 I can see why it would come in handy.
After taking our chances of being chased by the ostrich that lived there, we piled back into the Mitsubishi for the next brain jarring leg of the journey. This time we were headed off to the beach to cool our sweaty bodies off. After securing our own little portion of sand, which wasn't hard since there were only two other sites being occupied, we settled in for a little beach picnic, some swimming and tunes rom the Ipod (Nicole we love you!)while perfecting our golden tans.
Once we had all the rays that we could handle for the day, we headed back out to our camel trail of a road only to find ourselves caught in a fantastic little sand storm. The sky went from a bright blue to a charcoal, to a dusty brown (think of a sepia colour setting here) and sand blowing everywhere - kinda like blowing snow, but only sand, to the point of where we had to pull over because Lee could no longer see the road in front of us. We then looked over to the right to see the ostriches from the movie setting running for cover like a couple of banshees. After the sand came some rain along with some pretty wicked thunder and lightning.
It was then back to the house for a quick shower in order to head down to the souks in search for the shisha pipes which had eluded us in Dubai. After a little bit of hunting, Jules and I managed to find one, so it was then off to the DVD souks. These are pretty interesting...a wide variety of movies nad TV series to buy. So after picking up the DaVinci Code and a couple seasons of Lost and 24 it was off for some Lebanese eats. Yummy!!!